BE PART OF SOMETHING AMAZING
We are looking for enthusiastic and proactive individuals to help us deliver a brilliant race day experience for our runners.
Our 2021 event will be re-themed to celebrate, commemorate, and reflect upon the landmark moments of 2020 and 2021, shining a light on how we are coming together as a nation during the Covid-19 pandemic. We will be honouring the key workers, re-creating some of the fun moments of lockdown life, and remembering the kind actions of neighbours.
London Landmarks Half Marathon is organised by baby charity, Tommy's, to benefit themselves and many other worthy causes. An incredible £12.2m has been raised through the last two events so far and by volunteering at LLHM 2021, you will be playing a role in helping thousands of runners raise funds for a variety of amazing charities.
Be a part of what promises to be another fantastic one-of-a-kind event! 
Possible race day roles
MEET, GREET & INFO TEAM    
A friendly face to greet our runners. You'll be there to welcome our participants and send them in the right direction!
CHARACTERS & FANCY DRESS
Be part of an LLHM activation or cheer station on the course to entertain and excite runners… You'll be a massive part of creating our legendary London Landmarks atmosphere! 
COURSE MARSHALS   
Make sure our runners are staying on course and provide them with that much-needed encouragement. 
BAG DROP    
Guide the participants through our Covid-secure bag drop process.
DRINKS STATIONS   
Oversee water stations making sure runners stay hydrated, following Covid-secure measures.
START TEAM 
Help our runners assemble into their relevant waves and start areas and cheer them on as they cross the start line! 
FINISH TEAM  
Welcome our runners into the finish area and ensure they collect their well-deserved goody bag and medal, following our Covid-secure protocols.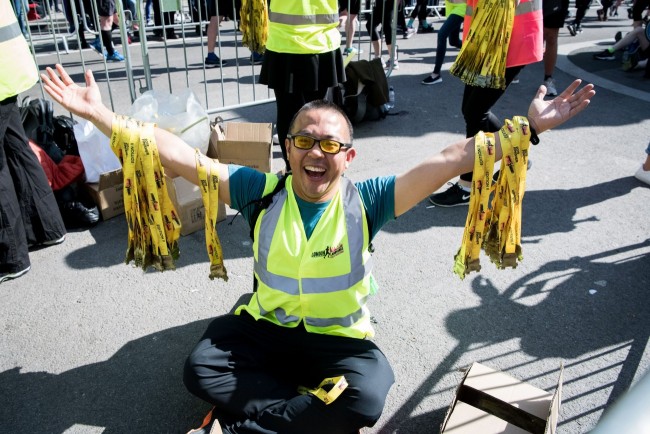 WHY VOLUNTEER?
•    Be part of a fun-packed day and one-of-a-kind race experience
•    Do your bit for so many incredible charities
•    Soak up the fantastic buzzing atmosphere
•    Meet a great team of volunteers helping to deliver the event
•    Receive an exclusive LLHM 2021 Volunteer Medal
COVID-SECURE 
The safety of everyone involved is our number one priority at all times. We will always put the safety of our LLHM community first.
The plans we are developing follow the latest DCMS and Run Britain guidance to ensure appropriate social distancing measures are in place on race day. As the situation is ever-changing, we will keep you fully informed of the plans in place to keep you safe!
Read more about our COVID-19 Safety Plans here.
GET IN TOUCH  
If you have any questions, please don't hesitate to get in touch with us [email protected]